We Positioned Our Artech Digital Signage Solutions at the American Hospital Tbilisi.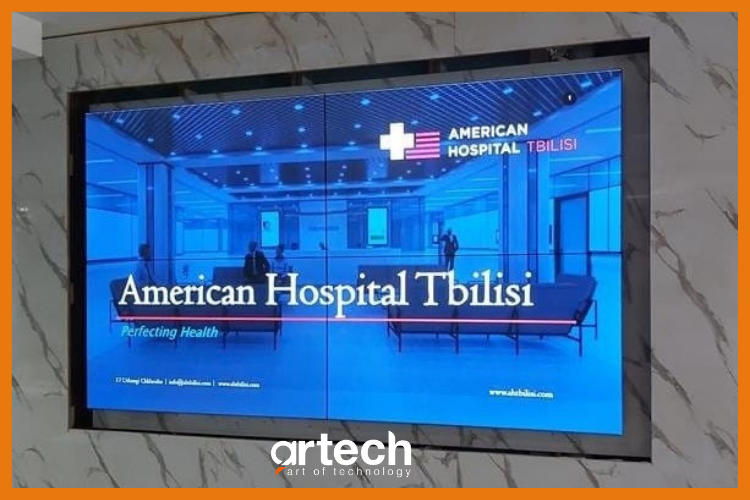 29/07/2021
As Çizgi Teknoloji, we are happy to participate in the American Hospital Tbilisi project, which will provide patient-centred medical services with US standards in Georgian healthcare. We touch life abroad with our Artech Polyclinic Door Information Screens and Videowall solutions.
Artech Digital Signage Solutions is one of the most influential and prestigious means of communication with patients and their relatives in health centres. It offers cost and time savings, multi-purpose use, real-time announcement broadcasting, and a prestigious corporate image with its stylish design.
Artech Polyclinic Door Information Screens are specially designed for the corporate identity and architectural decoration of American Hospital Tbilisi Hospital. With the Artech Polyclinic Door Information Screens connected to the hospital information system, room numbers, polyclinic information, the authorised doctor and the field of specialisation or the patient's current status information are instantly shared.
With Artech Videowall solutions, which can be enlarged to the desired size with the combination of more than one screen, and enable you to obtain more vivid images with higher resolution, doctor information and hospital-related content are shared with the visitors more strikingly. In addition, Artech Videowalls, located in the hospital lobbies and waiting areas where visitors spend the most time, can act as a single screen, as well as present the weather, exchange rates or information content that you have prepared on different screens simultaneously, significantly increasing the impact and perception of your message.
Playing an essential role in the digitalisation of hospitals, Artech Digital Signage Solutions increases brand reliability and perception by contributing to creating a safe environment for both hospital staff and visitors by ensuring the protection of social distance during the pandemic period with its information and guidance features.