About Us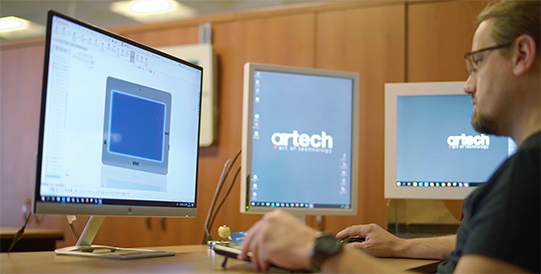 Two college friends have begun their journey of dreams in 1994, and today we are the Turkey's leading industrial computer, medical computer and digital signage & kiosk manufacturer with a quarter of a century of experience.
We offer our industrial computer, medical computer, kiosk and digital signage solutions to the world with our innovative design, R&D, production, sales and after-sales technical services since 1999 under Artech brand.
We touch your life with our innovative products in the passenger information screens and kiosks of the New Istanbul Airport, in the digital posters of a movie theater where you have a pleasant time, in the door information screen of the meeting room where an important meeting will take place, or in the successful surgery of a loved one.
In the light of our quarter-century experience, we are on the way to design and manufacture innovative hardware and innovative products for the medical, military, industrial and service sectors, and develop optimum software for our stakeholders by closely following the rapid developments in the technology world.
OUR MISSION
To design and produce original, innovative hardware for professional computing and communication systems for medical, military, industrial and service sectors and to provide optimum solutions to our stakeholders by developing effective software on our hardware.
OUR VISION
To be a prestigious brand offering innovative technology products to the world with high added value.
Our Values
We are Reliable
We are Innovative
We are Entrepreneurs
We Prioritize Our Work
We are Passionate About Our Work
We are Harmonious
We are Solution Oriented
We are Responsible
We Operate around Ethical Rules
Why Çizgi Teknoloji
Customer Focus and Sustainability
Compliance with International Standards
Innovative and Competitive Products
End to end; R&D, Design, Manufacture, Software, Sales and After Sales Services
Our Priorities
Produce Products and Solutions That Will Accelerate the Adaptation for Industry 4.0.
Develop the Most Suitable Solutions for The Needs of the Sectors.
More Than 25 Years of Experience to Develop Superior Technologies by Offering Solution Partnership
Raise The Standards of Medical Sector by Prioritizing Human Health